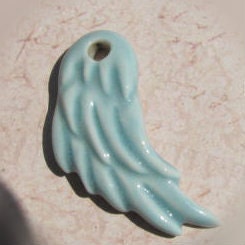 On A Wing - Hand carved Angel Wing Ceramic Pendants and beads
Porcelain Pendant
Just what eveyone needs..... all that is missing is the prayer.
Carving by Marla James.
Glazed Front and back
Green Pearl Glaze
The wing measures 2" x 3/4".
Start to finish, it's handmade. :-)
Just add a couple of jump rings and cording and you have a grea...
Click Here to Visit My Etsy Shop!