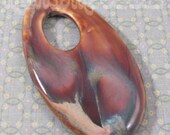 The glazes ran perfectly on this one!
Porcelain Long Oval
Porcelain Clay
opening is 3/4"
Fired to over 2200 * F
Blue, Brown and Cream glazes
Glazed front and back
It measures2 1/2" long
Ready for your design ideas
FREE SHIPPING! (in the USA)
Handmade in my home studio
Thanks for looking!
To return to the main store please c...
Click Here to Visit My Etsy Shop!